ABOUT
December 14, 2022
2023-01-22 13:06
ABOUT
Bilingual English educational program "We talk Europe"
An enriching experience to introduce children to Europe while practicing English
We talk Europe" is an edutainment, cultural and multilingual project. It aims at introducing children aged 8 to 12 to Europe and the European Union. Through fun, cultural and educational activities, this innovative program allows children to acquire new knowledge, have fun and enrich their general culture. 
"We talk Europe" also offers the learning and practice of English. Each workshop offers a vocabulary and exercises in English on the theme covered.
The children discover the countries of the continent, their cultures, their languages, and other specificities. Seeing beyond their country's borders, they develop their tolerance and open-mindedness.
The motto of the European Union is "United in diversity"!
Europe is a multicultural and multilingual space. As varied as it is exciting, it is home to more than 740 million people, living in 50 countries. Without forgetting the European Union (EU), this political and economic entity which brings together 27 member countries and 447 million inhabitants. The EU alone has 24 official languages. These are fine examples of European diversity.
During workshops and extra-curricular courses, children take part in activities that are as educational as they are fun. Adapted to their age, they are run in French and offer practice in English. These multilingual sessions are ideal for illustrating European diversity, while having fun!
Good learning takes place in an atmosphere of trust and goodwill. It is in this idea that I bet on play and fun to promote assimilation.
To offer an enriching experience to children, see pages: Programs (annual offer), Internships (offer during school holidays) and Workshops (thematic and punctual correspond to the news: Europe Day, Multilingualism Day, etc.)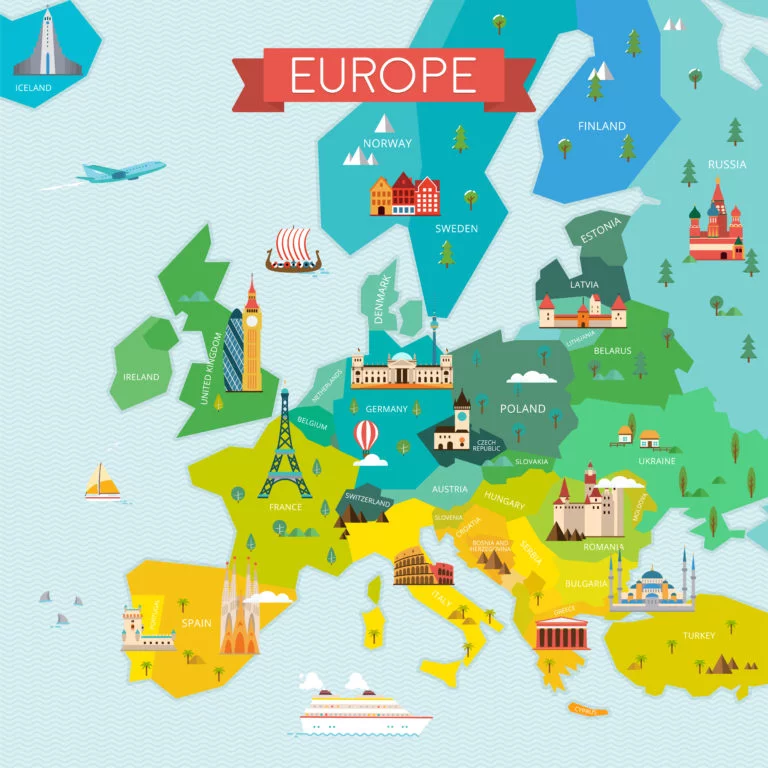 The Author of "We Talk Europe" Aija Omarova
Wishing to share my passion for Europe, I founded the "We Talk Europe" program in 2019 in Marcq en Baroeul (Lille Métropole, France). With a clever mix of pedagogy and entertainment, I organise various thematic workshops to introduce the diversity and richness of Europe to 8-12 year olds.
Enthusiastic and dynamic, I fully experience European diversity. Originally from Latvia, I speak 5 European languages: Latvian, French, English, German and Spanish. I also traveled through Europe during my studies and professional experiences: Latvia, United Kingdom, Switzerland, Germany, Belgium, France…
Passionate about European multiculturalism, I graduated from the College of Europe in Bruges (Belgium) and worked for 6 years in European institutions. I was also a trainer for 3 years.
Throughout the preparation of the "We talk Europe", I followed training courses online and with establishments specializing in child pedagogy, etc. These training courses allow me to offer unique edutainment experiences.
View (PDF documents): 
The press article for my We Talk Europe project appeared in "La Voix du Nord" on May 18, 2021.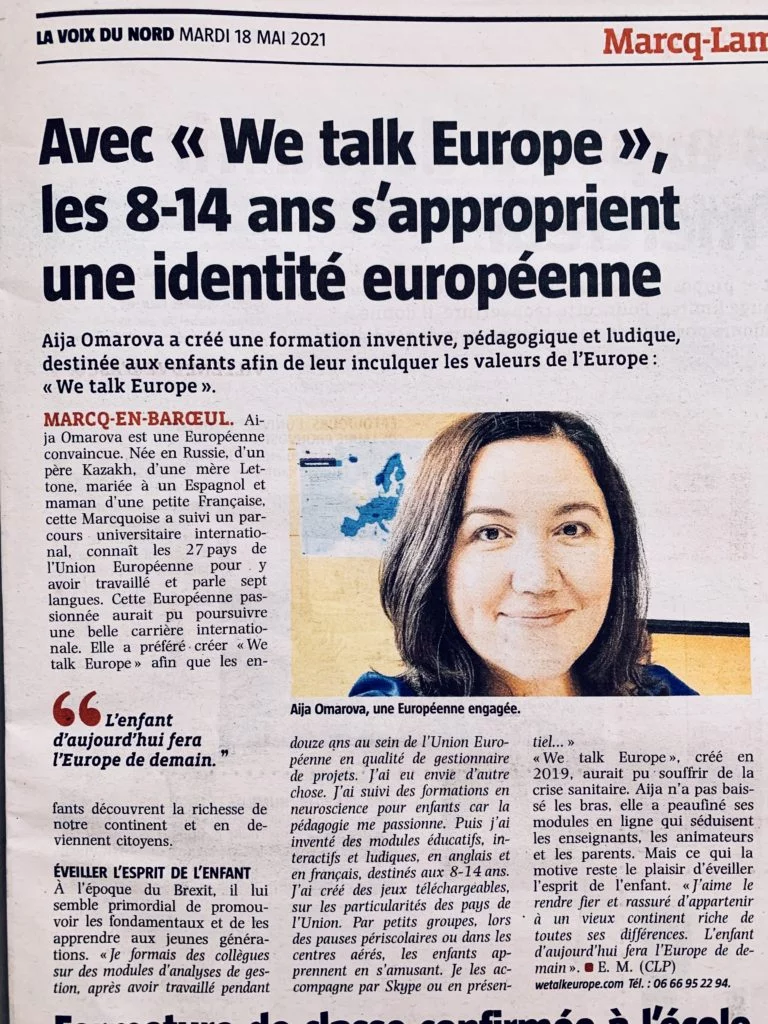 Why choose We talk Europe?

Fun method – the activities allow children to develop and practice English while discovering Europe. Children develop their general knowledge through games, interactive exercises, multimedia, etc. They enrich their vocabulary and improve expression and oral comprehension in English;

Authentic and original content – to create the content, I use my rich intercultural and personal experience. I have an extensive library of resources in different languages that I speak. I draw inspiration from it to create innovative, entertaining and educational workshops;

Varied resources – the different resources used (rhymes, games, podcasts, videos, quizzes, etc.) facilitate the development of the four key elements of the language: knowing how to read, listen, speak and write;

The atmosphere – thanks to the edutainment method, the atmosphere of the session is benevolent: no stress, no competition, no grades. This creates a sense of security and inner calm in the child. This environment helps to overcome the fear of making mistakes and to dare to speak English;

Interactive workshops – workshops encourage children to practice English, participate in games, interact with classmates, use interactive tools;

Intercultural encounters – the weekly sessions will welcome surprise guests from different European countries and cultures;

Dynamism – the workshops rely on interactivity, mini games, multimedia, humor, creativity for the commitment and active participation of children;

Experienced animator – graduate in European studies, with professional experience in different European countries (Switzerland, United Kingdom, Germany, Belgium), I want to share these skills with young children;

We talk Europe experience – the We talk Europe project has been created in 2019. Clients gave 5* on Google (22 reviews) for workshops and activities organised and held in 2020-2022.